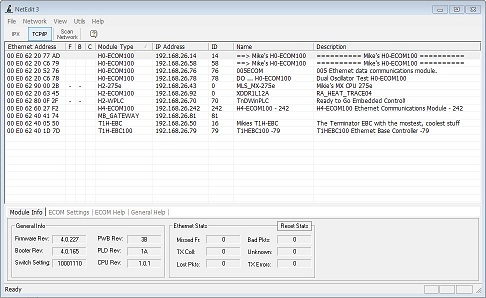 NetEdit v3 is the the free utility that is used to manage all aspects of our Ethernet-enabled devices. This includes the configuration of the network settings, updating the firmware in the devices, and setting up any runtime configuration options that are available.

The use of an Excel-style grid allows the list of devices to be sorted by any column. The built-in Export feature will save the current device list information to a CSV file. The 'Restore Factory Settings' function to reset Name, Module ID, IP Address and Description to their default values.

Setup the internal Peer-to-Peer configuration table in ECOMs and ECOM100s so that networking instructions (RX / WX and NETRX / NETWX) will not be forced to use TCP/IP broadcasts. The Peer-to-Peer configuration table in ECOM100s can also be configured to allow the ECOM100 to operate as a Modbus TCP/IP client (master) utilizing the DirectLOGIC PLC's networking instructions (RX / WX and NETRX / NETWX).

NetEdit 3 also has the 'Test CPU Access' function to verify the backplane communication through the ECOM and ECOM100 to the PLC's CPU.

The 'Test Email' function allows you to test the Email configuration parameters that are stored in the ECOM100 and you can setup Email Authentication via a User ID and Password if required.

When used to configure EBCs and EBC100s, the 'Show Base Contents' function will display a list of the I/O modules that are in the base with the EBC or EBC100, and if applicable, will display their Modbus TCP/IP addresses.

Live Update

NetEdit v3 also has an integrated firmware update facility for all of the EBCs & EBC100s, ECOMs, ECOM-Fs, ECOM100s and BX-ECOMLTs, GS-EDRVs & GS-EDRV100s, ERMs & ERM100s, PBCs, the H0-PSCM, and the MB-Gateway. The 'Live Update' facility will retrieve the latest firmware files from the Host Engineering web site, then indicators in the 'F', 'B' and 'C' columns will show which devices have out of date firmware, out of date boot loaders, and/or address configuration conflicts.

Note: You may have to disable Window's built-in firewall to successfully update the firmware or boot loader in the Ethernet device. You can turn always it back on after the update is completed.

Netedit3.zip
Last Update : 10 May 2017
File Size : 5.2 Mb
Version : v3.14c
view the NetEdit v3 Revision History

Note: with the release of version 3.12, earlier versions of NetEdit3 will no longer be able to detect and download updated firmware files.
It is highly recommended that you upgrade to the latest version of NetEdit3.