The Do-more H2 series micro-modular CPUs are "superchargers" for the time-tested DL205 hardware. We started with a blank slate and included many features our customers have been asking for. It's superfast, has lots of memory, embedded Ethernet - we know, we're pretty excited ourselves!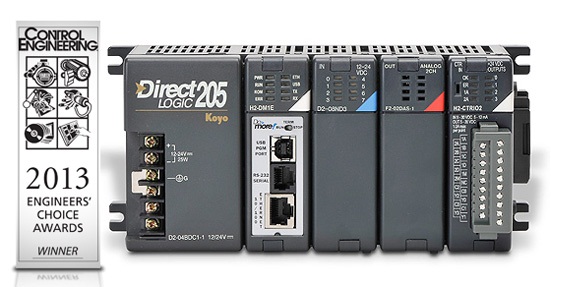 Both CPUs Offer:
Over 1Mb total memory.
Program/monitor/debug over any embedded communication port.
Project documentation is stored in the PLC.Support for up to 256 I/O locally and thousands more with optional Ethernet remote expansion racks.
Supports inexpensive serial port expansion options for connection to bar code readers, ASCII devices, printers, etc.
Four base sizes with built-in power supply support 12/24 VDC, 110/220 VAC and 125VDC (six and nine-slot only) power sources.
Over 50 option modules are available, from discrete and analog to high-speed counter and Ethernet modules.
NOTE: Do-more CPUs can only be programmed with the new Do-more Designer software. DirectSOFT, and ladder programs developed with DirectSOFT, are not compatible with these new CPUs
2000 PID Loops with Auto-tuning
The Do-more H2 CPUs can process up to 2000 PID loops directly in the CPU. You can select from various control modes including automatic, manual, and cascade control. There are also a wide variety of alarms including Process Variable, Rate of Change, and Deviation. The loop operation parameters (Process Variable, Setpoint, Setpoint Limits, etc.) are easily accessed from operator interfaces or Human Machine Interfaces (HMIs).
Setup is accomplished with easy-to-use setup menus and monitoring views in the Do-more Designer PLC programming software. The auto tuning feature is easy to use and can reduce setup and maintenance time. The CPU uses the auto tuning feature to automatically determine near optimum loop settings.
Optimized Instruction Set
The Do-More instruction set was developed by listening to our customers' needs and requests, with flexibility and ease of use as our goals. Download the free Do-more Designer programming software today and take a look at these powerful and easy-to-use instructions.
True Bumpless Run-time Editing
Do-more Designer can download a new version of your code into the Do-more CPU and seamlessly switch to it at the beginning of the very next scan. There is no need for any pause (however brief) that can wreak havoc on the operation of your machine or process.