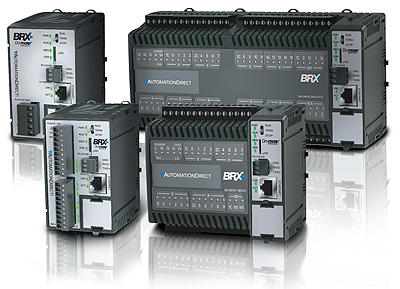 The BRX platform is a versatile stackable Micro PLC system that combines powerful features in a compact, stand-alone footprint. The family consists of four Micro PLC Unit (MPU) form factor combinations are available (3 with built-in I/O) to provide strong system designs that fit application requirements exactly, keeping system costs to a minimum. The BRX platform is designed to be used as a stand-alone controller or can be expanded using a wide variety of expansion module which easily snap onto the side of any BRX Micro PLC Unit (MPU) creating a sturdy and rugged PLC platform.

BRX Micro PLC Features
Free Programming Software with Simulator (Do-more Designer), and there's also a free user manual
Do-more! DM1 Technology - Existing Do-more! projects can port over 100%.
Built-in Ethernet Port - EtherNet/IP and Modbus TCP support (select modules).
Built-in Serial Port - RS232 or RS485 software selectable.
Pluggable Option Module (POM) Slot - Add additional serial port, Ethernet port, or USB port.
Micro-SD Card Slot - Data Logging and File Management capability.
Built-in High Speed I/O - Up to 18 DC inputs and half of the DC outputs.
Built-in Analog I/O - Up to 6 I/O (on select models).
Expansion I/O - Any mix of discrete I/O and analog I/O modules, most BRX PLCs support 8 expansion I/O modules, but some only support 4, and some only 2, see below for details.
External Power Required - 12-24 VDC or 120-240 VAC.